Overview
Regardless of your major, you can enrich your Emmaus experience by getting involved in musical activities. Students here are excited to grow musically and use their music as an opportunity to minister to others. Small classes allow for individual attention from faculty, and students learn in the context of a biblical worldview. You will also enjoy the amazing acoustics of our Marble Chapel for concerts and recitals.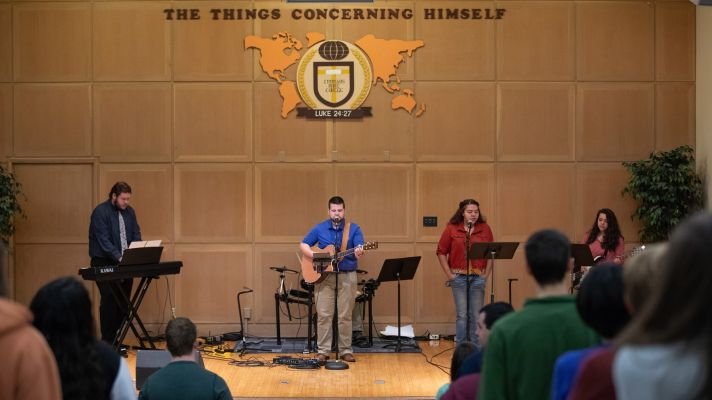 The Music Department purposes to glorify God by enhancing the cultural environment of the college and community through musical excellence. We go beyond technical and artistic training and encourage students to use their gifts in a way that brings glory to God and ministers to our audiences.
Music Department Details
Performing Groups
Choirs
Women's Choir (.5 credit per semester)
Lisa Beatty, director
Women's Choir is a non-auditioned choir that performs on campus and at local churches. Students have an opportunity to improve their vocal skills and learn choral repertoire from a variety of musical styles. Rehearsals are Wednesday, 2:20 – 3:10pm in the choir room.
Chamber Choir (.5 credit per semester)
Elisa Cooper, director
Chamber Choir is an auditioned mixed choral ensemble that performs on campus and in the local community. Students in Chamber Choir have the opportunity to sing more challenging repertoire that will help improve their musical and vocal skills. Audition required. Rehearsals are Monday from 3:20-4:35pm in the choir room.
Ensemble (.5 credit per semester)*
Elisa Cooper, director
Ensemble is a smaller mixed group chosen from within the Chamber Choir. During spring break (March) the Ensemble travels on tour to other areas of the country (and occasionally Canada). Students in the Ensemble have the opportunity to sing more challenging repertoire that will help improve their musical and vocal skills. Audition and participation in Chamber Choir required. Rehearsals are Wednesday from 3:20-4:35pm in the choir room. CDs of previous Emmaus Ensemble groups are available for purchase here!
*Scholarships available
Small Groups
Each year, depending on interest, ability, and availability, some of the best singers have an opportunity to participate in a smaller vocal group such as a ladies trio or male quartet. These groups perform on campus, at local and regional churches, and occasionally other local events. The groups sing on tour if all of the members are also in the Ensemble. Rehearsals are scheduled based on availability of the students and directors, Miss Elisa Cooper or Dr. Lisa Beatty.
Instrumental Groups
Emmaus students can access instrumental performing groups in the community and at other colleges in Dubuque. Please contact Miss Elisa Cooper at ecooper@emmaus.edu for more information.
Private Lessons
Private lessons are available to all students ($200 fee per semester for 30 minute weekly lessons; 1 credit per semester). Emmaus offers voice and piano lessons on campus. Students who are pursuing one of our music minors may take other instrumental lessons off-campus for Emmaus credit depending on availability of teachers.
Music Scholarships
Music Scholarships support Emmaus Bible College's commitment to train qualified student musicians from any major for leadership roles in the Emmaus Ensemble.  Music scholarships (up to $400) are available to incoming students interested in singing in the Ensemble.  One of these scholarships may be awarded to a student who would like to play the piano for the Ensemble (this student may also audition to sing in the Ensemble when performing a cappella music).  An audition is required for any student interested in participating in the Ensemble, and students must audition by June 1st to be eligible for a scholarship. Note: Students who sing in Ensemble must also participate in Chamber Choir.
Audition Requirements
Voice: One piece that best demonstrates your range and ability (such as an art song in English or a foreign language, hymn, contemporary piece, musical theater piece, etc.)

Audition will also include exercises to test your range, ear, and reading ability
Note: this part of the audition should be done on campus if at all possible; students may then submit a recording of the solo portion at a later date

Piano: One classical piece or hymn arrangement and a choral accompaniment that will be sent to you prior to your audition

Audition may include some basic sight-reading
Please refer any questions about audition requirements to the Music Department Chair:  Miss Elisa Cooper, (563) 588-8000 x1302; ecooper@emmaus.edu.
To begin the scholarship application process, fill out our online auditon form here: Emmaus Music Audition Form
Music Audition & Scholarship FAQs
Sort by:
All

Denomination

Applying

Student Life

Academics

Financial Aid

Auditions

Music Scholarships
Who must audition?
An audition is required of all students wishing to participate in the Emmaus Ensemble/Chamber Choir and for all students seeking a music scholarship.
When are the scholarship auditions?
Auditions will be scheduled on an individual basis after you submit your online audition form.
How do I request an audition?
Prospective students to Emmaus Bible College begin the audition process by submitting the online music audition form. Upon acceptance of your audition form, the Music Director will contact you to set up your on-campus audition.
What if I cannot attend an on-campus audition?
If you are unable to make a campus visit to audition, you may request an audition via skype. The director will contact you to schedule that audition after you have submitted your online form.
What should I perform for my audition?
Prepare music to demonstrate your current level of technical ability, musical understanding and expression. Consult with your music teacher or director for guidance on selections. See audition requirements listed above for more details.
What if I need an accompanist for the campus audition?
Pianists are available for your audition. If you plan to sing from memory, be sure to bring a copy of the music for the pianist. If you plan to sing with music, bring two copies of the music (one for you and one for the pianist).
Can I still audition for the Ensemble or Chamber Choir after June 1st?
Students pursuing a music scholarship must audition by June 1st, but students may still audition for the Ensemble/Chamber Choir through orientation and the first two days of classes.
What kind of music scholarship assistance is available?
Music Scholarships support qualified student musicians from any major in leadership roles in the Emmaus Ensemble. Scholarships are typically $400 per year and are renewable.
Can students in any major be considered for music scholarships?
Yes, Music Scholarships are available to any student, regardless of major.
What are the requirements for maintaining a music scholarship?
Awardees must enroll, perform, and demonstrate positive leadership in Ensemble and Chamber Choir each semester. They must additionally continue to be a full-time student and meet minimum standards of satisfactory academic progress.
When will I hear about my application and scholarship?
Scholarship decisions will begin to be made in early April and will continue to be awarded through early June on a funds available basis. Remember: 1) consideration for music awards and entrance into Ensemble/Chamber Choir is contingent upon a student's successful application and admittance to Emmaus Bible College; and 2) any music scholarship award may be only a part of a larger financial aid package.
What's Next?