Campus Life
A question in every student's mind is, what will campus life will be like at Emmaus? This is the core of your college experience – where you live, study, work, and serve God next to other Christian students. Find out about all the aspects of daily life at EBC – from housing options to meal plans to finding the right place to study or socialize with your friends.

Whether you are an undergraduate or an adult learner, you will find your time on our campus truly transformational. We encourage you to make the most of it! Sign up for one of our NCAAA sports teams or intramural teams. Participate in a student-run organization or club. The more invested you are in campus life, the more prepared you will be to answer your calling.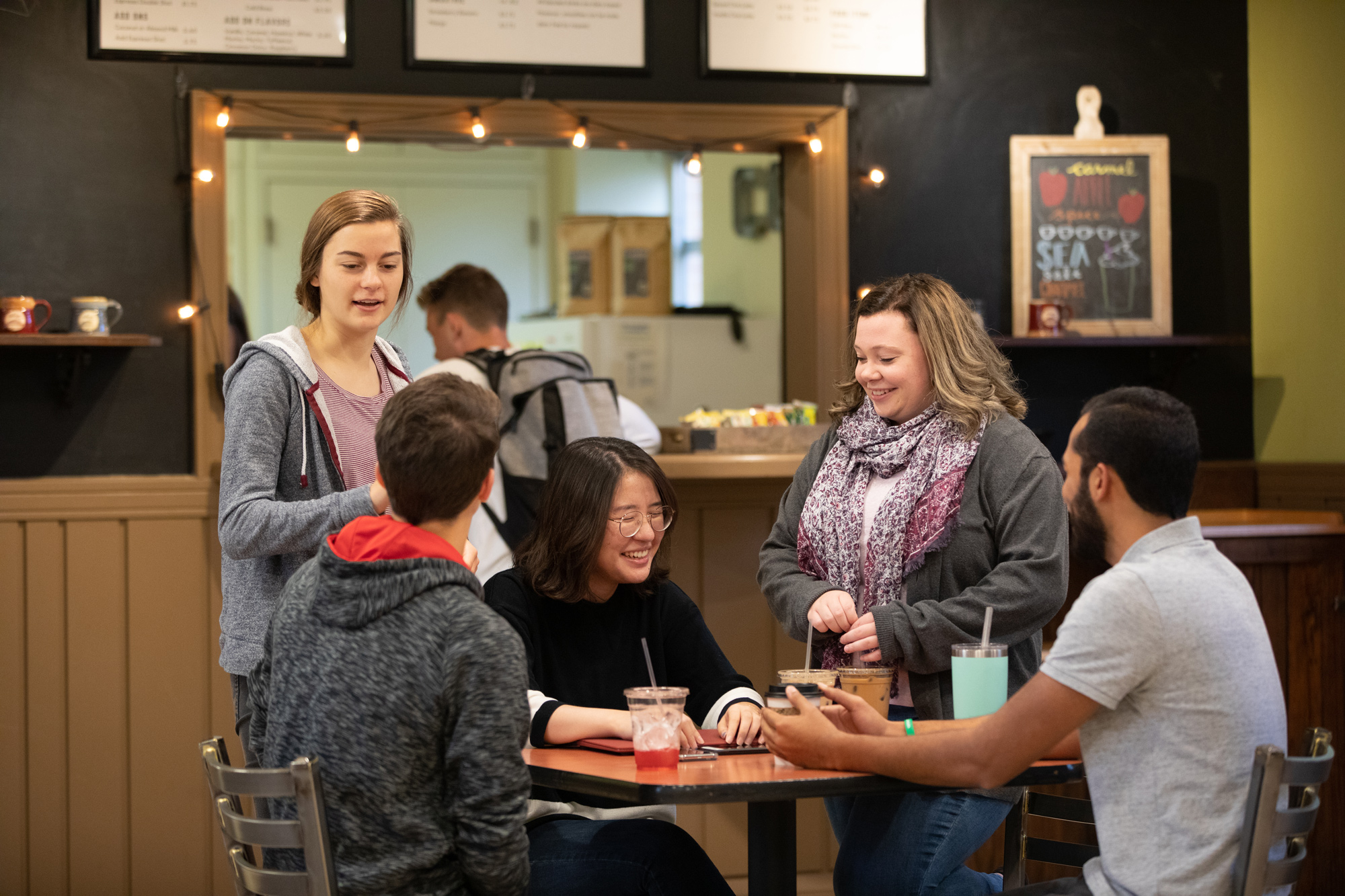 Clubs & Organizations
At Emmaus, we believe that learning happens outside the classroom as well in. Therefore, Emmaus invites you to explore and share your talents, skills, and, interests with the Emmaus community. Getting involved is the best thing you can do to develop new friendships, build new experiences, and make the most of your educational experience. Below are just some of the ways our students get involved.
Student Missionary Fellowship
Student Missionary Fellowship (SMF) is a campus organization which exists to promote awareness of, prayer for and interest in missionary activities in the Unites States and around the world through guest speakers, prayer groups, special programs and community outreach.
Student Chaplains
The Emmaus Student Chaplains seek to cultivate an environment in which faculty, staff, and students develop a love for Jesus Christ through opportunities to engage in the spiritual disciplines of the Christian Life. The group helps organize 2 Focus chapels each semster, plan worship and prayer nights and seek to care for those on campus through pastoral care.
Campus Community Group Leaders
Campus Community Groups (CCGs) seek to create an atmosphere for spiritual growth through accountability, prayer, open discussion and loving community. CCGs are led by fellow students who are mentored by faculty/staff members and under the direction of the Director of Campus Life.
Resident Assistants
Student leaders are selected by application and interview to serve and support their fellow students by providing encouragement and guidance in their college experience.
Student Union
The Emmaus Student Union exists to promote community and unity amongst the student body. They do this by programming events throughout the school year that foster students' growth in their friendships and strengthens their connection within the campus community.
Student Chapel Speakers
Every Friday, upper classmen have the opportunity to prepare and deliver a message for the student body. These student speakers operate under the direction of a Bible faculty member. They critique one another, offer constructive feedback, and evaluate the messages after their delivery in Chapel. This past year student speakers spoke from 2 Timothy and selected Psalms.
Chapel Praise Teams
Students are encouraged to participate in Chapel music by joining a praise team. These teams are student led and operated and usually consist of 3-4 musicians and vocalists. There is a wide variety of instrumental talent, from piano and guitar to drums and violin. The Chapel praise teams exist to encourage the student body through worship in song.
Emmaus Choirs
There are several different opportunities for students of varying skill levels to join a choir or singing group at Emmaus. You can learn more about these groups and even purchase CDs from our Emmaus Ensemble by visiting the music department page.
Yearbook Team
The yearbook program is a scholastic journalism program whose goal is to create a print monument to what God has done at Emmaus Bible College each school year.
Academic Department Committees
Within their academic major, students serve on committees and clubs to assist in planning and organizing department events, to offer insight to faculty within the department, and for common fellowship.
Campus Events
The college experience is known for deep friendships and new experiences. This is certainly true at Emmaus. Throughout the school year, student government works in partnership with other organizations to provide a robust campus life through hosting a variety of events on campus. Below are just a few of these events:
Labor Day Weekend
Labor Day weekend is the first event of the school year! Students, faculty and staff gather for a barbecue, volleyball games, a giant slip n' slide and other great activities to help celebrate the first three day weekend of the year.
Floor Volleyball Tournament
This is not your average volleyball tournament. Each floor comes up with its own costume theme idea and has its members dress up accordingly! In addition to a winning floor for the volleyball tournament, there are also various prizes given out for categories based off of the floor costumes.
Fall Festival
Each year, to celebrate the fall season, we host a festival in the gymnasium, and this event normally coincides with parent's weekend. Complete with games, inflatable obstacle courses and activities as well as apple cider and other treats, its a great way to kick off the fall months.
Christmas Banquet
Christmas Banquet is a time to gather as a school and celebrate the Christmas season, the birth of our Lord Jesus. A committee plans an elegant dinner and program including music and a Christmas devotion. After dinner, tradition takes students to faculty homes for an after-party with games, snacks, and gifts.
Winterfest
Winterfest is a weekend long event, planned and organized by student government. The entire student body is divided into different teams, each one competing in various activities, games and competitions. Winterfest is a great time to take a break from schoolwork and the long winter months.
Spring Banquet
At the end of the year, the school holds a formal banquet at a nearby event center right on the Mississippi. This is a time to reflect on the year and honor our graduating seniors. After dinner and a program, there is always some sort of after banquet event or activity to celebrate the end of the school year!
End of Year Retreat
At the end of every academic year, Student Government plans a whole school event after classes and finals have ended. Past events have included a day trip to Chicago (this included exploring downtown, the Shedd Aquarium, Soldier Field, the Museum of Science and Technology and more) and a weekend retreat at Lake Geneva Youth Camp in Lake Geneva, WI (swimming, boating, tubing, etc.) This is always a great time to celebrate the end of the school year and have fun with friends without having to worry about homework, studying or finals!
Athletics
Emmaus Bible College Athletics seeks to develop a community of Christians that come together to play a sport with the main goal of representing Jesus Christ with our actions, words, and work ethic. We offer both intramural and a competitive inter-collegiate program.
Intercollegiate Sports

Emmaus Bible College hosts four sports teams, competing in the Midwest Christian College Conference (MCCC) and the National Christian College Athletic Association (NCCAA DII). During the fall semester there is Men's Soccer and Women's Volleyball, and beginning in the fall semester and continuing on into the Spring, there is Men's Basketball and Women's Basketball. The Emmaus Eagles are known for their commitment to ethical competition, diligent studies, and promoting community among other teams. At Emmaus, our desire is to glorify Christ both on and off the playing field.

Intramural Sports

We understand that having an outlet after long hours of studying is important. Our intramural sports program is designed to do just that. Over ninety percent of Emmaus students foster community by participating in intramural sports teams. These teams compete on drafted teams and various hall floors of the same gender in sports such as volleyball, basketball, floor hockey, soccer, and ultimate frisbee, just to name a few.
Find schedules, contact information, sports rosters, and other information by visiting our official athletics website: www.emmausathletics.com!